How
Establishment of Censorship

Censor Handstamps

Currency Control Handstamps

S.P.1. Censor Labels

Stopped Mail

Postal Staff

Censor Office Correspondence

Dept. of Defence Seals

Postal Handstamps

Enclosure Labels

Termination of Censorship

Short History
Censorship of communications, including mail, was established on 3rd Sept 1939 under the EMERGENCY POWERS ORDER, 1939, following Éamon de Valéra's (Irish Prime Minister's) neutrality address to Dáil Éireann (Irish Parliament) on 2nd Sept., in which he said
"It is necessary at every step to protect our own interests in that regard, to avoid giving to any of the belligerents any due cause, any proper cause, of complaint."
The Government was well prepared, having had an active Censorship Committee in place since March 1937. It had a 'Handbook for the use of Postal Censors' printed in Sept 1938 and by 10 July 1939 "....had accommodation and key personnel earmarked" as well as "the necessary orders, warrants, forms etc, ....ready for issue at short notice."

---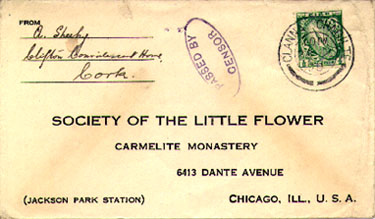 One of two known examples of a 'Provisional' Irish oval censor handstamp
in English only, cancelled 26 Sept 39 from Clonakilty, Co. Cork
to Chicago, USA franked 1/2d for surface rate.
---
Sources of Reference

Places:

Military Archives, Dublin
Registry of Dept of Finance, Dublin
The National Archives, Washington D.C.
The National Archives of Ireland, Dublin
Literature:

Ireland's Stand - Speeches of Éamon de Valéra
In Time of War - Robert Fisk
---
Go to: Irish Airmail Society | Postal Censorship
---
© 1997-2007 Karl Winkelmann - Updated 30 September 2007